Nicholas Hagger
is a philosopher, cultural historian, man of letters and poet. He attended Worcester College, Oxford. He has lectured at universities in Iraq, Libya and Japan where he was a Professor of English Literature, and has written 49 books. These include innovatory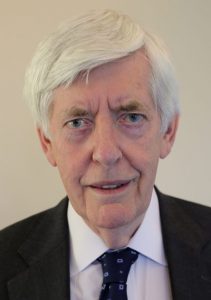 works on philosophy:
The Universe and the Light
and
The One and the Many
, and
The New Philosophy of Universalism
in which he relates an up-to-date view of all the sciences to metaphysical reality and focuses on humankind's place in an expanding universe that is permeated by the infinite. In the 1990s he led the Universalist Philosophy Group of 12 philosophers which anticipated the approach of the Galileo Commission. He has frequently called for a Metaphysical Revolution, and in his autobiographical
My Double Life 1: This Dark Wood
and
My Double Life 2: Rainbow over the Hills
he lists 93 experiences of the metaphysical Light.
He has written innovatory works within seven disciplines which are interconnected like the seven bands of one rainbow. These include philosophy, history, international politics and literature, and his Universalism sees each discipline as a whole. In his philosophy he has presented the whole universe in relation to the infinite; in his history he has presented the rise and fall of all 25 civilisations; in his international politics he has presented a world state together with a world constitution. His literature reflects his Universalist outlook and every aspect of the universe. He has a substantial literary output of 2,000 poems (including over 300 classical odes), two poetic epics, five verse plays, two masques, 1,200 short stories and two travelogues. His archive of papers and manuscripts is held as a Special Collection in the Albert Sloman Library at the University of Essex. In 2016 he was awarded the Gusi Peace Prize for Literature.