 Expanding the Scope of Science
How it all started… David Lorimer introduces the Galileo Commission Report

GALILEO COMMISSION REMIT
The world today is dominated by science and by its underlying assumptions, which are seldom explicitly articulated. The Galileo Commission's remit is to open public discourse and to find ways to expand science so that it can accommodate and explore important human experiences and questions that science, in its present form, is unable to integrate.
Following widespread consultation with 90 advisers representing 30 universities worldwide, we have published the Galileo Commission Report, written by Prof  Dr Harald Walach and entitled Beyond a Materialist Worldview – Towards an Expanded Science.  The report has been widely endorsed as a groundbreaking document and we encourage you to read it for yourself and spread the word among your professional network.  Summaries  of the argument are available in a number of languages.
Nisha Manek – Bridging Science and Spirit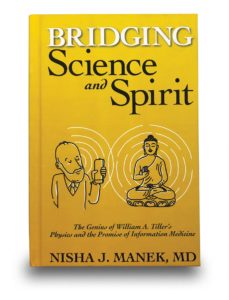 In Bridging Science and Spirit, you'll discover:
An easy-to-understand overview of William A. Tiller's most influential work
Seven pillars that support the shared principles of science and spirit
More than sixty drawings to clearly illustrate the core scientific concepts
An exploration of the levels of consciousness and how they impact your relationship with reality
An entertaining mix of history, physics, and spiritual anecdotes, and much, much more!
Bridging Science and Spirit is a simple guide for unlocking the capacity of human intention. If you like expert insights, complex scientific concepts explained in everyday language, and intellectually energizing material, then you'll love Dr. Nisha Manek's unprecedented resource.
Rupert Sheldrake on the Galileo Commission Report
Rupert Sheldrake discusses the Galileo Commission Report and how its thesis relates to his own work. Rupert argues that materialism does not have sufficient explanatory power and the Galileo Commission Report goes a long way to explicate this argument.
How is mind related to matter? This ancient question in philosophy is rapidly becoming a core problem in science, perhaps the most important of all because it probes the essential nature of man himself. The origin of the problem is a conflict between the mechanical conception of human beings that arises from the precepts of classical physical theory and the very different idea that arises from our intuition: the former reduces each of us to an automaton, while the latter allows our thoughts to guide our actions. The dominant contemporary approaches to the problem attempt to resolve this conflict by clinging to the classical concepts, and trying to explain away our misleading intuition. But a detailed argument given here shows why, in a scientific approach to this problem, it is necessary to use the more basic principles of quantum physics, which bring the observer into the dynamics, rather than to accept classical precepts that are profoundly incorrect precisely at the crucial point of the role of human consciousness in the dynamics of human brains.
Subscribe