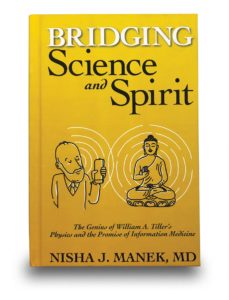 Fascinated by the mysterious power of human intention to make things happen? Discover its real-world applications by exploring the breakthrough research of psychoenergetic science.
Does the physics of consciousness have you scratching your head? Want to know how being intentional can improve your life? Ever wonder where science and spirituality intersect? As a protégé of Dr. William A. Tiller, Dr. Nisha Manek is well-versed in the trailblazing scientist's cutting-edge research and theories. A former esteemed member of Mayo Clinic's Division of Rheumatology and an internationally recognized leader of Integrative Medicine, Dr. Manek is at the forefront of innovative approaches to health and wellness. Now she's slicing through the scientific jargon with an insider's look into how intention will be the next big medical breakthrough.
Bridging Science and Spirit: The Genius of William A. Tiller's Physics and the Promise of Information Medicine is a beginner's handbook to this pioneering field. Using lab-based evidence and illuminating illustrations, Dr. Manek connects current scientific understandings of thermodynamics and the nature of awareness with universal spiritual truths. With these thought-provoking theories driving practical techniques, the medical and technological evolution inevitable in your lifetime is stunning.
In Bridging Science and Spirit, you'll discover:
– An easy-to-understand overview of William A. Tiller's most influential work
– Seven pillars that support the shared principles of science and spirit
– More than sixty drawings to clearly illustrate the core scientific concepts
– An exploration of the levels of consciousness and how they impact your relationship with reality
– An entertaining mix of history, physics, and spiritual anecdotes, and much, much more!
Bridging Science and Spirit is a simple guide for unlocking the capacity of human intention. If you like expert insights, complex scientific concepts explained in everyday language, and intellectually energizing material, then you'll love Dr. Nisha Manek's unprecedented resource.
Pick up Bridging Science and Spirit to expand your mental horizons today!