Duane Elgin is an American author, speaker, educator, consultant, and media activist.
He attended the Sorbonne in Paris for one semester in 1963 and earned a Bachelor of Arts from the College of Idaho in 1966. He received a Master of Business Administration from the Wharton School of the University of Pennsylvania in 1968 and a Master of Arts in economic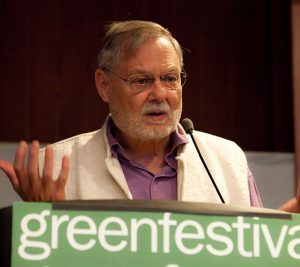 history from the University of Pennsylvania in 1969.
In the early 1970s, Elgin was a senior staff member on a joint Presidential-Congressional Commission on Population Growth and the American Future. The commission's task was to look ahead from 1970 to 2000 and explore challenges of urbanization and population growth.
Elgin moved to California, where he worked as a senior social scientist with the "futures group" at the Stanford Research Institute (now SRI International) and co-authored studies of the long-range future. His report on Voluntary Simplicity, co-authored with Arnold Mitchell, was published by SRI in June 1976. The report was expanded and republished with a survey in CoEvolution Quarterly in 1977. More than a thousand pages were received in response to the survey. These first-hand accounts formed the basis for his book Voluntary Simplicity, which appeared in 1981. Elgin left SRI International in 1977.
During the 1980s, he co-founded two non-profit non-partisan organizations concerned with media accountability and citizen empowerment. The national one was called "Choosing Our Future" and the San Francisco Bay Area organization was called "Bay Voice". Their mission was to give citizens a greater voice in their community by using the public airwaves for interactive "electronic town meetings". Elgin continues to promote citizen use of mass media for dialogue about the future. In 2012, Elgin and a small team launched Great Transition Stories, a non-profit organization dedicated to helping people understand ongoing societal transitions.