 Expanding the Scope of Science
How it all started… David Lorimer introduces the Galileo Commission Report

GALILEO COMMISSION REMIT
The world today is dominated by science and by its underlying assumptions, which are seldom explicitly articulated. The Galileo Commission's remit is to open public discourse and to find ways to expand science so that it can accommodate and explore important human experiences and questions that science, in its present form, is unable to integrate.
Following widespread consultation with 90 advisers representing 30 universities worldwide, we have published the Galileo Commission Report, written by Prof  Dr Harald Walach and entitled Beyond a Materialist Worldview – Towards an Expanded Science.  The report has been widely endorsed as a groundbreaking document and we encourage you to read it for yourself and spread the word among your professional network.  Summaries  of the argument are available in a number of languages.
Nisha Manek – Bridging Science and Spirit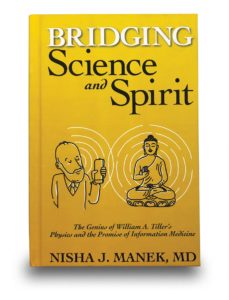 In Bridging Science and Spirit, you'll discover:
An easy-to-understand overview of William A. Tiller's most influential work
Seven pillars that support the shared principles of science and spirit
More than sixty drawings to clearly illustrate the core scientific concepts
An exploration of the levels of consciousness and how they impact your relationship with reality
An entertaining mix of history, physics, and spiritual anecdotes, and much, much more!
Bridging Science and Spirit is a simple guide for unlocking the capacity of human intention. If you like expert insights, complex scientific concepts explained in everyday language, and intellectually energizing material, then you'll love Dr. Nisha Manek's unprecedented resource.
Rupert Sheldrake on the Galileo Commission Report
Rupert Sheldrake discusses the Galileo Commission Report and how its thesis relates to his own work. Rupert argues that materialism does not have sufficient explanatory power and the Galileo Commission Report goes a long way to explicate this argument.
We arrive at a conclusion that science is a path to self-knowledge and that 'Science and Spirit are a necessary unity.' At the time of writing, people are coming together to meditate whereby we create a field 'raising the symmetry of space' and creating an atmosphere that is coherent and palpable in sacred places. In the case of advanced saints and sages like Padre Pio, this may even result in the physical body becoming incorruptible, somehow transforming the very matter normally subject to entropic decay. All this gives pause for thought, while the book as a whole points way beyond our current conceptual limits.
Subscribe